The library's Board of Directors recently determined that masks will be required to participate in our indoor programs. This requirement is just for programs; masks are not necessary to visit the library. Thank you for understanding.
Monday, December 6, 2021 from 1:30 pm to 2:30 pm
A book club for homeschoolers ages 12 to 16! This is a chance to socialize with other readers and practice respecting opinions while discussing a variety of topics. We will be discussing "American Born Chinese" by Gene Luen Yang.
A tour-de-force by New York Times bestselling graphic novelist Gene Yang, American Born Chinese tells the story of three apparently unrelated characters: Jin Wang, who moves to a new neighborhood with his family only to discover that he's the only Chinese-American student at his new school; the powerful Monkey King, subject of one of the oldest and greatest Chinese fables; and Chin-Kee, a personification of the ultimate negative Chinese stereotype, who is ruining his cousin Danny's life with his yearly visits. Their lives and stories come together with an unexpected twist in this action-packed modern fable. American Born Chinese is an amazing ride, all the way up to the astonishing climax.
Online registration begins on Monday, November 1st at 1:30 pm. Masks are required during this program regardless of vaccination status. Questions? Contact Miss Alyssa at This email address is being protected from spambots. You need JavaScript enabled to view it. or 419-874-3135 ext. 127.
Friday, December 17, 2021 from 4:15 pm to 5:15 pm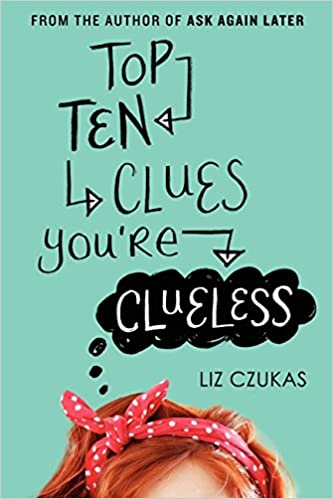 Join us for a great discussion and great pizza! In September we will be discussing: "Top Ten Clues You're Clueless" by Liz Czukas.  
Top Five Things That Are Ruining Chloe's Day: 5) Working the 6:30 a.m. shift at GoodFoods Market 4) Crashing a cart into a customer's car right in front of her snarky coworker Sammi 3) Trying to rock the "drowned rat" look after being caught in a snowstorm 2) Making zero progress with her crush, Tyson (see #3) 1) Being accused—along with her fellow teenage employees—of stealing upwards of $10,000
Chloe would rather be anywhere than locked in work jail (aka the break room) with five of her coworkers . . . even if one of them is Tyson. But if they can band together to clear their names, what looks like a total disaster might just make Chloe's list of Top Ten Best Moments.
Online registration begins on November 19 and books can be picked up at the Youth Services desk or via curbside. For more information, please contact Crystal McNeal, Teen Librarian at This email address is being protected from spambots. You need JavaScript enabled to view it. or 419-874-3135 x113.